19 novembre 2009
Et voila, c'est deja la fin de mon blog sur canal blog.
Je pars sur Blogger, et vous etes les bienvenus.
Je devais changer car mes amis non francophones avaient vraiment du mal a ecrire des commentaires!!!!
Surtout n'hesitez pas a mettre des commentaires. J'aime beaucoup ca.
Voici ma nouvelle adresse :

This is it. It is the end of my blog with Canal Blog.
I am moving to Blogger and you are welcome.
It will be easier for you, because everything is in English.
Don't hesitate to write comments on my new blog. I love it.
Here is my new adress :

Marion's Workshop
18 novembre 2009
Bonjour a tous,

It was a little bit difficult to start this post in English. I wanted to talk about my friend Anne Laure who was the architect of my blog and whose job is to counsel in website design, communication and redaction on the web. I wanted to tell you to contact her if you need help on that matter at this address : Anne-Laure Guillaud, annelaureguillaud@hotmail.com.
Well, the only problem is that she is in France, and even if she did, in fact, live a couple of years in Arkansas, and speaks very well English, she is still in France!! You might not be interested in reading about a French web-designer.

I still want to talk about how our association started, and it might give you some ideas.

We became friend during our last year in high school and we were roommate for 3 years at college. It's been 20 years !!!! Time flies. Now she lives in Paris and me in the Boston area. One on each side of the Atlantic ocean !!
Ever since I moved with my family in the US in 2001, we always stayed in touch. The new technologies helping, I could make a phone call in France and spend only 2 cents/minute. I do not hesitate to grab my phone. We just need to handle the time difference of 6 hours.

Last year, after discovering face-book, I put the pictures of my paintings on my profile. The pictures were awful, because I did not used photo-shop.
Anne Laure said to me : "That is a shame that you live so far away, I would have loved to help you create your blog". I answered right back : "This is not a problem, I remind you that we just spent an hour on the phone. With INTERNET, there are no more frontiers" ah !!!
This is how it started. She made me work like a "beast" as we say in French.!!!! In 6 month I was able to deliver my blog with her strong support.

- I was afraid to be submerged by the amount of work but she supported me and helped me put into place a strategy that was simple and reassuring. The world of the web is huge and it is better to start step by step with someone to guide you.
- I had no idea how to start so she gave me all the advices necessary.
- I had no confidence in myself and in the quality of my work but she convinced me that it was worth taking some time to show it.
- My pictures were awful so she made me learn how to use GIMP (photo-shop for Linux)
- In front of my perfectionist attitude, she was able to reorient me when I was loosing track.

It was a wonderful experience. It was not that easy because we know each other since such a longtime, so we must have preconceptions about each other, but that was not the case. In the contrary, it was a fulfilling association.

So if you search for someone who's job is to counsel, communicate, design websites, French and/or English speaking, She is the one !!!!!
But if not, I hope this post will give you some ideas.
Thank you for reading it..

Aurevoir.
_____________________________________________________________
Hello my friends,

J'ecris ce post pour celles et ceux qui voudraient lancer leur blog et qui sont intimides par l'ampleur de la tache. C'est vrai que c'est du boulot, mais avec un peu d'aide, c'est beaucoup plus facile, et l'experience en vaut vraiment la peine.

J'aimerais donc vous parler d'Anne Laure. C'est elle qui m'a aidee, encadree et soutenue grace a ses competences professionnelles en creation de sites web, mais aussi grace a notre longue amitie.
Ca fait 20 ans qu'on se connait. Maintenant elle habite a Paris et moi a cote de Boston, chacune d'un cote de l'ocean Atlantique.

Grace aux nouvelles technologies, nous sommes toujours restees en contact. Quand je paye 2 centimes la minute pour lui telephoner, j'hesite pas. Il faut juste qu'on s'accorde avec notre decalage horaire de 6h.
L'annee derniere, apres avoir decouvert l'univers de Facebook, j'ai mis les photos de mes peintures sur mon profil. Les photos etaient affreuses, non traitees, pas du tout valorisees.
Anne Laure me dit au tel : "C'est dommage que tu habites si loin car j'aurais pu t'aider a faire ton blog sur ta peinture".
Ma reponse fut : "Y'a pas de probleme avec la distance, je te rappelle qu'on vient de passer 1h au telephone, et avec internet, il n'y a plus de frontieres".

Et voila c'etait parti. Elle m'a fait travailler comme une bete !!! Il m'a fallu 6 mois pour arriver a la premiere version du blog, celle que j'ai publiee en septembre 2009.

- J'avais peur de me lancer dans cette aventure et j'avais peur d'etre submergee par la quantite de travail. Elle m'a aidee a mettre en place une methode et une strategie simple et rassurante. Le monde du web est immense et il vaut mieux commencer a petits pas avec quelqu'un qui vous guide a chaque etape.
- Je ne savais pas comment commencer. Elle m'a donne tous les outils pour demarrer.
- Je n'avais pas confiance en moi et dans la qualite de mon travail. Elle m'a convaincue que ca valait la peine d'exposer mes peintures.
- Mes photos etaient moches. Elle me les a toutes faites retravailler et j'en ai profite pour apprendre a me servir de GIMP = Photoshop version Linux.
- Face a ma tendance perfectionniste, elle a su me reorienter quand je partais dans des mauvaises directions.

Bref, ce fut une experience merveilleuse pour moi et je l'ai trouve tellement a l'ecoute. Ce qui n'a pas du etre facile, car on se connait depuis 20 ans et on a forcement des a prioris l'une sur l'autre. Mais ça n'a pas été un handicap. Au contraire.

Tout ca pour dire que si vous avez besoin d'aide pour developper votre blog ou votre site web, c'est le job d'Anne Laure. Elle fait du conseil en création de sites et blogs, en communication et rédaction web.

Je ne peux que vous la recommander ! et j'espere vous avoir motives pour vous lancer dans cette nouvelle aventure.

Voici ses coordonnees :

Anne-Laure Guillaud, annelaureguillaud@hotmail.com

See you soon my friends
16 novembre 2009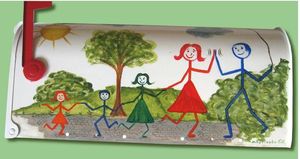 Salut a tous,

Here is a Personalized Gift. I painted this mail box for a family of 5. The parents, the big sister and the twins, brother and sister.

They wanted a childish theme with stick men.

After searching on Youtube, I ended up on a video with stick men dancing on the music "You can't stop the beat" from the movie Hairspray !!!
Click here to listen.


That was it, I had found my inspiration.
Here it is !!!!!
________________________________________________

Hello my friends,

Voici une boite aux lettres personnalisee que j'ai peinte pour une famille de 5. Les parents, la grande soeur et les jumeaux, garcon et fille.
Ils voulaient un theme enfantin avec des bonhomes baton.

Je n'avais pas trop d'idees, je ne savais pas quoi faire. Alors j'ai cherche sur Youtube et je suis tombee sur une video avec des bonhommes baton sur la chanson "you can't stop the beat" du film Hair Spray.
Cliquez ici pour ecouter.


Je tenais mon inspiration.
Et voila le resultat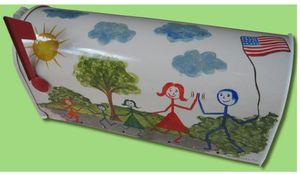 11 novembre 2009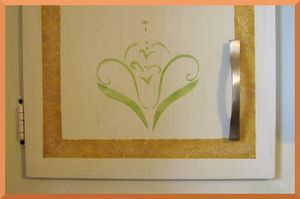 Salut a tous,

This week I changed the handles of my kitchen cabinets. 25 old handles to unscrew, 25 new handles to screw !!!!!
Here they are : Voilaaaa !!!

By the way, you can also see a picture of the kitchen, when we bought the house in 2003, and a picture of the kitchen after I painted the cabinets.
BEFORE / AFTER


_____________________________________________

Hello my friends,

Cette semaine, j'ai change mes poignees de portes de placard de la cuisine.
J'ai devisse 25 vieilles poignees et j'ai visse 25 nouvelles poignees !!!!!
Les voila.
J'en profite aussi pour vous montrer notre cuisine quand on l'a achete en 2003. aie aie aie. Very seventies.
et une photo apres l'avoir peinte
AVANT / APRES
______________________________________________
Before /Avant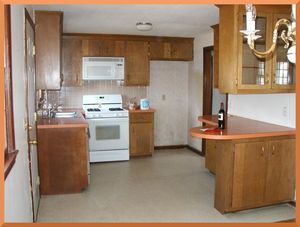 After /Apres
and the old Handles / et voici mes vieilles poignees que j'ai jetees. snif snif !!!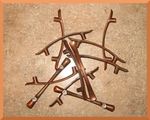 Bye bye my friends.

09 novembre 2009
Salut a tous,

I enjoy very much working on these wood chest from IKEA. They are not expensive, easy to use, and we can be creative !!!
_____________________________________________________________________________________
Hello my friends,

J'aime beaucoup travailler sur ces petites boites IKEA. Elles ne sont pas cheres, elles ne prennent pas trop de place et on peut y peindre tout ce qu'on veut.

________________________________________________________________________________________
Below is the detail of the first chest I put in my bedroom / Voici la premiere boiboite que j'ai mise dans ma chambre :

Then, as I really miss closets in my bedroom, I painted another one. This one was inspired by my curtains, as you can see below.

Puis comme je manque vraiment de placards dans ma chambre, j'en ai fait une 2eme, boiboite. Pour celle ci je suis restee dans le meme theme sauf que je me suis inspiree de mes rideaux que vous pouvez voir :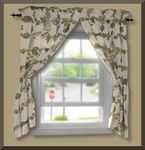 et voici la 2eme boite /Here it is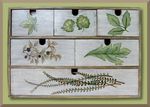 A+ See you soon my friends
01 novembre 2009
Salut a tous,
So I totally messed up my Halloween pictures. But we had a lot of candies, my favorite ones being the twizzlers and the dots !!!!

I made a soup with the pumpkins we carved. It was delicious, even if my husband did not want to taste it !!!! aie aie aie : Pumpkin Acorn squash soup.
And I roasted the seeds. Oh my god, it was so good !!!! Roasted pumkin seeds

_____________________________________________________________
Hi,
Et ben moi, j'ai rate toutes mes photos de Halloween.
C'est dommage car c'etait super, il a fait un temps magnifique, les gens etaient assis devant leur maison et il y avait des enfants partout.

On a mange pleins de bonbons, mes preferes etant les twizzlers et les bonbons au peanut butter !!!!

On a quand meme carve nos 3 citrouilles, j'ai recupere la chair et les graines.
Avec la chair, j'ai fait une soupe Deeeeeelicious : Pumpkin Acorn squash soup.
et j'ai fait griller les graines. Oh my god, it was so good !!!! Roasted pumkin seeds
Je ne pouvais plus m'arreter de les manger.

Voici quand meme ma photo ratee.
Salut a tous,

It finally happened, Ioan turned 40.... and my good friend Marie too. So, we threw them a party they will never forget !!
We had a lot of fun and we danced !!! Yeepee.
My favorite music of the party was "Mas que Nada", Zumbaaaahh!!!! You can find it here, Youtube.

Here are the pictures of the invitation and thank you cards that I created for Ioan and Marie.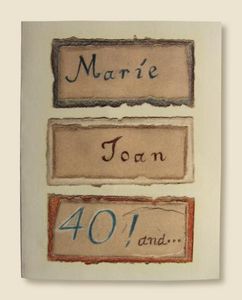 .....FABULOUS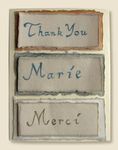 A+

Hello my friends,

Et oui, Ioan vient d'avoir 40 ans, et comme ma bonne copine Marie aussi, on a decide de faire la fete. C'etait il y a quelques semaines et on s'est bien amuses et surtout on a bien danse !!!! Ma derniere chanson preferee "Mas que Nada", Zumbaaaahh !!!!!. Vous pouvez la trouver sur Youtube.

Alors voici les photos de la carte d'invitation et des cartes de remerciements que j'ai faites au crayon pour Ioan et Marie.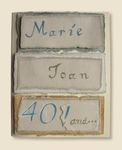 See you soon my friends
29 octobre 2009
Hello my friends,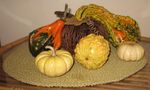 Il a fallu que j'arrive en Nouvelle Angleterre pour voir des choses pareilles !!!!!
Pour la petite info, je les ai sprayees avec de la laque pour cheveux pour qu'elles brillent et durent plus longtemps.

You have to be in the US to find something like that !!!!
I might be wrong but I have never seen that in Europe.

A+


28 octobre 2009
Hello everybody,

Here are some beautiful pictures of New England, I took them this week.

Je ne pouvais pas ne pas vous montrer ces merveilleuses images de la Nouvelle Angleterre pendant l'Ete Indien.

J'ai tres envie de peindre cette photo avec le poteau electrique !! Je la trouve superbe.
I am very tempted to paint this one with the electric pole. Don't you think it's beautiful ?