12 septembre 2009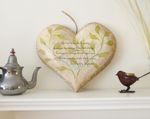 Salut a tous,
This is a Heart made of Paper Mache that I painted in January 2009 for my good friend Marie.
Let me share with you my reasons for making it.
It was the month of January, and the mood was bad. In the US, the economic news was awful and my husband's company had just announced lay offs. We were worried and to make things worse, the Winter was cold and snowy.
As we say in French, " My mood was in my socks"!!!
I talked to my good friend Marie to vent a little bit. To bring me some comfort, she emailed me a prayer that she had just discovered and that I didn't know : the Serenity Prayer.
It is such a beautiful prayer and I was so touched by her gesture, that I was immediately inspired to paint it.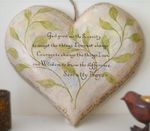 I found a tacky heart made of Paper Mache at a Michaels store and loved it. Because Marie knows me well, I was not afraid to let my inspiration go and she loves it.

a bientot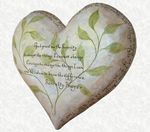 September 14th : This has been updated with the help of my friend Mary who edits my texts after translation from French to English. Some texts have not been edited by her so don't blame her for my mistakes !!!
Commentaires sur A HEART