15 septembre 2009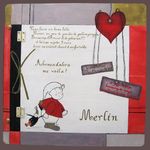 BONJOUR,
I decorated this picture album in 2007 as a gift for the birth of Merlin.
Dimensions : 31*31 cm, 12*12 inches
His mom wrote the verses in the birth announcement (see below).
Because they were so touching, I used them as my inspiration.
I had in front of me all the material I needed to make the gift.
To add a personal touch, I asked to my daughter to help with the drawings. We both signed the back of the album (see below).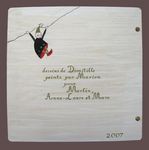 I bought the wood at A Michaels craft store.
I hope you'll enjoy
AU REVOIR
Marion

Commentaires sur MERLIN'S PICTURE ALBUM