05 octobre 2009
Bonjour a tous,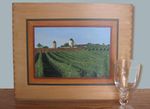 This is a project that did not end up as it was planned !!
Originally, I wanted to paint something customized for my husband. My idea was to paint a mini chest for his desk. We kept wine labels from our tour in the Bordeaux wine country in 1994, while we were engaged. These wine labels had a lot of sentimental value to us; I wanted to use them to create a customized object for my husband.
Then, during a Christmas celebration in France, my mom gave me a beautiful picture book about the area in France where I grew up in the Loire Valley : L'ANJOU. I love this book because it reminds me of the colors and the light of this region.
I found the mini chest at IKEA. I decided to paint one the pictures of the book on top of the mini chest. Then, I would put the wine labels on the side to incorporate them in my project.
Here is a picture of the box.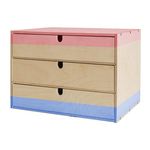 So I painted this scenery of a vineyard and I had a wonderful time because it brought back many memories : the visits of the wine cellars, my studies as a geologist when we worked on the terrain, and the "troglodyte" restaurant in the small village of Rochemenier. Click here to check the restaurant's web site.

Once the painting was done, I realized, that my original idea was not going to work. The painting of the scenery was on top of the box, so we would not be able to see the image. I had also wanted the wine labels to be the focal point; which was not happening... As we say in french, "I had to move my gun to my other shoulder". After a lot of discussion with my painting teacher, I decided to cut my box in the shape of the pink and the blue in the picture above. My painting was losing its practical first objective and was becoming a painting to put on the wall!!! Since I had the top and the bottom of the box to paint, now I could make a second painting that you will discover next week.
I finally gave my "finished after many hard decisions" painting to my husband. He loved it and was very happy not to put more clutter on his desk !!!!!
Don't worry, I won't give up until I find an idea for those beautiful wine labels.

A bientot
Marion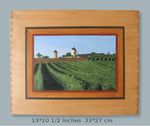 Commentaires sur ANJOU LANDSCAPE