19 octobre 2009
Bonjour a tous,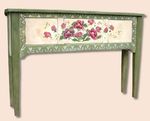 This weeks' theme is "Restoration"
I love to restore old furniture. It is a "feel good" experience because I feel I am doing something useful by giving a new life to something used. I mix the old and the new by bringing 2009 in and letting the previous life of the object inspire and guide me into its new beginning.

I also think that this relates to a new trend in the US where a sense of responsability about what we buy and what we throw away gets stronger. It also gives the opportunity to local artists, like myself, to participate in the furnishing of the houses surrounding us.

With that new spirit in my mind, I decided with the help of my husband to go on our Saturday mornings new mission : yard sales.
Well well well!!! I am not a specialist of yard sales but when you find a collection of vacuums from the 70's, that spent the last 40 years resting somewhere in a garage or an attic, you wonder what you can do with that.
But, when someone sells old furniture in good shape for 10 bucks, then a lot of ideas come to my mind. I bought 4 wood boards in the shape of fruits. I have no idea yet how to paint them, but if you have already done that, you are welcome to share .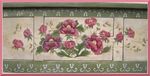 So, I renovated this chest for my friend and neighgor, Lorraine, in 2007. I did not touch the green contour that I liked, but I repainted the center. Previously, some beautiful flowers were painted, but their color scheme did not work with the green contour. They were too bright for the surrounding green. I sanded the center and I painted this pink flowers complementary with the green around.
Lorraine loved it and it is still in her bedroom !!!!!
A bientot
Commentaires sur LORRAINE'S COMMODE