16 novembre 2009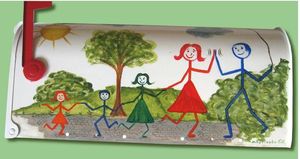 Salut a tous,

Here is a Personalized Gift. I painted this mail box for a family of 5. The parents, the big sister and the twins, brother and sister.

They wanted a childish theme with stick men.

After searching on Youtube, I ended up on a video with stick men dancing on the music "You can't stop the beat" from the movie Hairspray !!!
Click here to listen.


That was it, I had found my inspiration.
Here it is !!!!!
________________________________________________

Hello my friends,

Voici une boite aux lettres personnalisee que j'ai peinte pour une famille de 5. Les parents, la grande soeur et les jumeaux, garcon et fille.
Ils voulaient un theme enfantin avec des bonhomes baton.

Je n'avais pas trop d'idees, je ne savais pas quoi faire. Alors j'ai cherche sur Youtube et je suis tombee sur une video avec des bonhommes baton sur la chanson "you can't stop the beat" du film Hair Spray.
Cliquez ici pour ecouter.


Je tenais mon inspiration.
Et voila le resultat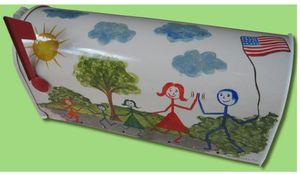 Commentaires sur Mail Box / Boite aux Lettres