26 octobre 2009
Salut a tous,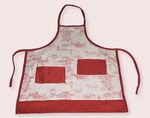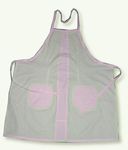 Here is my question for you : Do you have old fabrics in your attic, that you keep since years waiting to know what to do with them ?

I believe that you canno't get rid of them. Some relatives gave them to you and they are full of memories but you don't know what to do with them. May be, you bought them when you still had time to realize your last creatives ideas, but not any more. You have other priorities now. Or, you just fell in love with the fabric, you bought it, but you don't know how to saw. By the way, you don't even have a sewing machine !!!!

Well, these fabrics are still here in your attic. They are waiting for you to use them before they are so old that you won't be able to do anything at all.

So, I've got an idea !!!!!! aaaahh, a very simple idea. I can make an apron with your fabrics. You will be able to wear it when you want, for cooking, for gardening, for painting, for playing with the kids, or simply to feel this fabric against you when you read a book.

You won't need to change clothes. You won't need to make it match to the last top fashion pair of shoes. You will just wear it for the pleasure.
This is what I did last week with my old fabrics from a plastic box under my bed.

Here they are, 2 of them.
On this picture below, my apron is already stained by my daughter !!! Guess where is the stain!!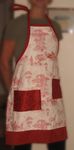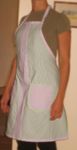 Send me your fabrics and I'll make an apron for you, with one pocket, or 2 pockets, or without any pocket, with a bias or not, with a patchwork or with stripes..... It will depend on what you'll send me.

Send your fabric with $30.00.

I certainly forgot something, but I hope you will remind it to me by writing a comment just below

A bientot

Commentaires sur APRON FROM THE ATTIC